It's all in our Compelling Consensus™ algorithms and a little help from your customers!
Cue fast moving magical green code
How the platform incorporates Compelling Consensus™ for video testimonials
So you've created your campaign and invited your customers to record a video. Treating them to a warm smiling face, they press record and voila - an authentic, heartfelt testimonial is captured on the platform.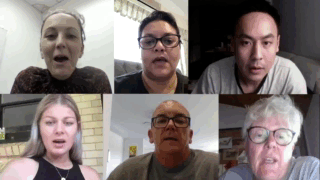 In the same efficient interaction, your customer is asked to score previous testimonials left by your customers, as determined by our algorithms.
The rating focuses on "persuasiveness". This is a composite of believability and authenticity to identify the content that will truly drive your bottom line. The entire process takes under 3 minutes.
The Compelling Consensus™ algorithms determine when each video has been reviewed sufficiently to be statistically significant. This process adapts in real-time based on the number and distribution of scores.
In your dashboard, you'll see the videos ranked by persuasion... the top rated videos are authentic believable and ready to increase leads and drop CPA!
The most persuasive videos can be published to your widget and refreshed according to their persuasion score, so you'll always have the best content on your website to drive conversion.